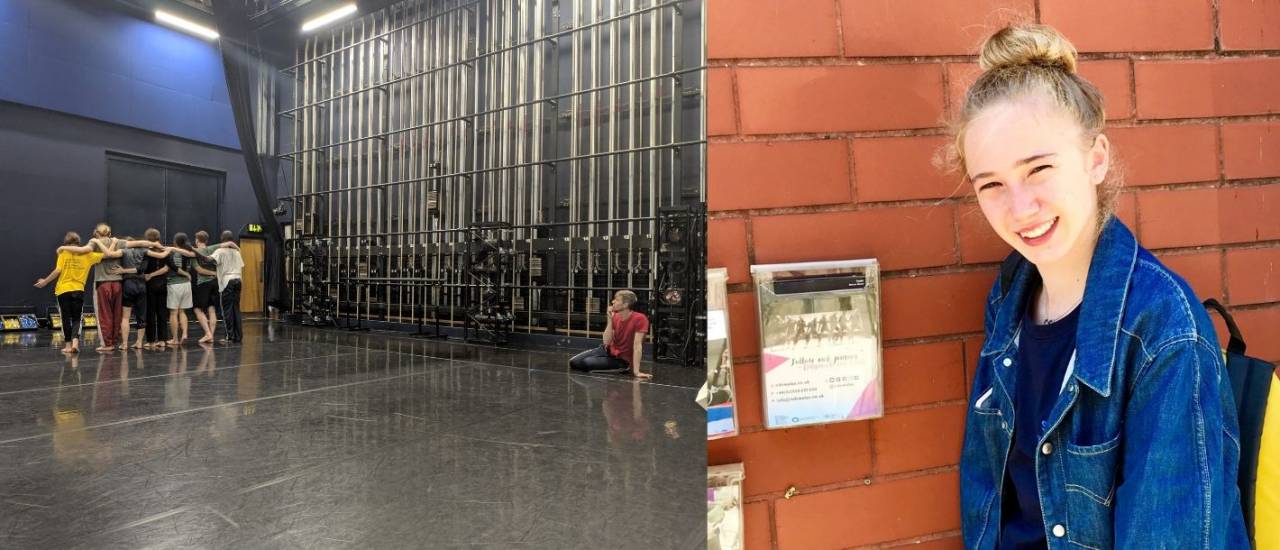 Work Experience Blog: Mollie Jenkins
Day 1
I am currently a member of multiple youth dance groups; Spark Youth Dance Company, Monmouthshire Youth Dance company and I have been an NDCWales Associate for 1 year. I am an aspiring contemporary dancer and am interested in the way NDCWales works.
I began the morning by joining in with the company class led by Matteo Marfoglia, which was challenging yet exciting to have been part of. It was interesting to see how it differed to the Associates classes yet incorporated many similar aspects. 
Afterwards, I was able to watch the company's rehearsals for the new piece 'Rygbi', choreographed by the Artistic Director Fearghus Conchuir. I was intrigued to see how the piece was going to capture both rugby and contemporary dance. It was fascinating to be able to see the use of improv and contact within the piece. The company then went on to talk about their careers and how they were supported with their dance development. For me, this was really interesting to hear and be inspired by. I have had a great day and I am excited to see how the piece progresses within the time I spend with NDCWales. 
Day 2
This morning began with a contemporary class led by Laila which was both hard work but great fun. After this, the dancers were asked to work in pairs and do an improv based task using contact work. They had to respond to touch and vary their focus to see how that would affect their movement. I could see how this exercise helped them with their piece and allowed the dancers to explore their movement into a greater depth. For me, it was interesting to see how important your facial expressions are within a piece and how it can create such a different atmosphere, with Fearghus encouraging expressions as much as possible.
After that the dancers were rehearsing a section of their piece based on contact work. This section was seemingly powerful. I liked how the abstract/contemporary dance style was fused with distinct rugby moves. This allowed me, as an audience member, to follow the theme of the piece easily and still enjoy the amazing dancing alongside. Fearghus then showed the dancers a selection of images to inspire their movement and meaning behind the piece. This has been a really interesting day for me, both to take part in class and get a real insight into how the dancers work. I have enjoyed today and am excited to join NDCWales tomorrow.
Day 3
Similar to yesterday, this morning began with a contemporary class led by Laila, consisting of both technique and a phrase. I enjoyed learning Laila's choreography as it was both exciting yet challenging.
After that, Fearghus wanted the dancers to spend time working on their improvisation within the piece. It was fascinating to see how the dancers were able to work so strongly as a team to improvise together and ensure everyone was kept safe. Using improvisation as a way to choreograph and generate ideas is something I have yet to encounter and wish to explore more into as I begin to choreograph my own work. The dancers also got to rehearse sections of their piece with the shoes they will be wearing for their show, allowing them to get used to it. 
I have really enjoyed my time with NDCWales this week, getting an insight into how the dancers work and how they produce such wonderful pieces. I am extremely grateful towards NDCWales for giving me this amazing experience and am excited for September as I join the Associate programme for another year.