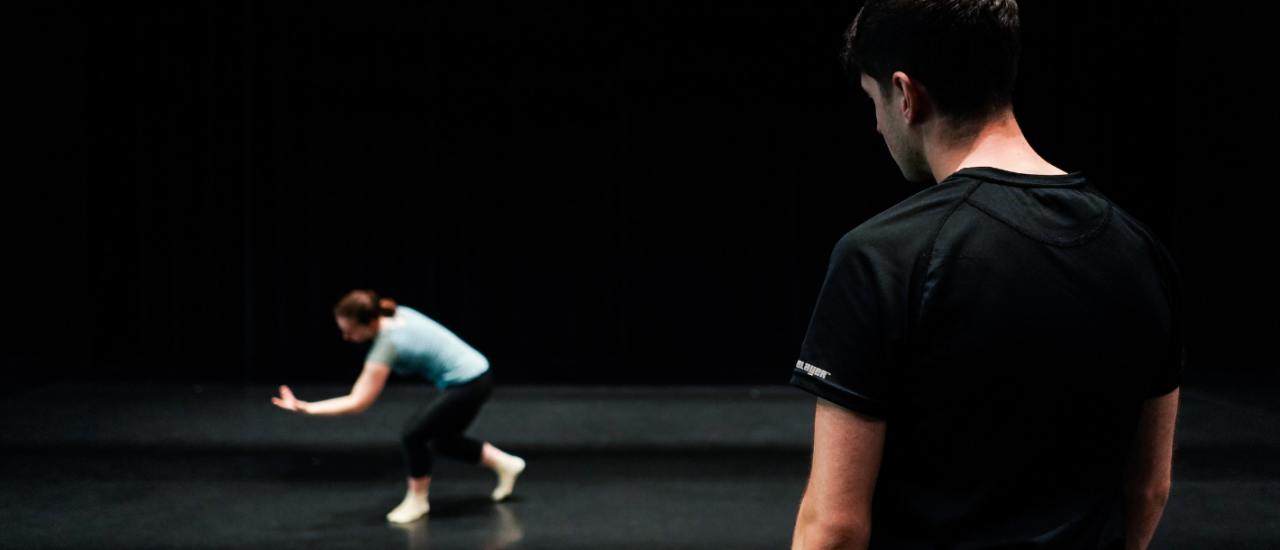 The 2019 Residency programme is underway at National Dance Company Wales
Monday 3 June 2019 saw us kick off our latest Residency programme at National Dance Company Wales, offering opportunities for Welsh or Wales based dance artists the chance to develop their own work and practice at The Dance House, Wales' home for dance performance.
Zosia Jo, Jack Philp, and Skakeera Ahmum, are the dance artists on the 2019 Residency programme, all of whom have strong connections to dance practice in Wales.
 "It is really important for us as a national company to support dance artists within the sector, and one of the ways we do this is by offering the physical space of our studio, our time and expertise, so that we can support the artists as they research new choreographic ideas, develop new collaborations or advance work that they may already have made a start on," says our Artistic Director Fearghus.
Cardiff based dance artist, writer and maker Zosia Jo, is using the residency to build on her ongoing research that uses a combination of imagination, anatomy and fantasy to transcend gender identify and reframe feminine sexuality.  Known for its feminist themes and use of voice and spoken work, Zosia's work is rooted in a desire for connectivity and communication through movement, improvisation and performance. She is hoping that this the residency will enable her to create a solo piece that will become a seed for a wider body of work.
Jack Philip, a contemporary dance teacher at the Dance House, who has worked for several companies and has created commissioned work for Arts Council of Wales, is another artist within the Residency programme and will be collaborating with Prof. Paola Borri of Cardiff University School of Biosciences, and composer R. Seliog of Turnstyle Music to explore what happens when optical microscopy meets movement. As part of their latest project Opto Nano, they aim to translate scientific research around multi-photon imagining into dance choreography.
Jack explains that "Having a supportive space to grow the first stages of a new creative idea was a real attraction in applying for the residency. The Dance House is a really inspiring place to work, the support from the team at NDC Wales,in addition to the coaching available as a part of the opportunity, was truly an exciting prospect to learn from."
With her residency week commencing Monday 17 June, the final artist within this years Residency is Cardiff born Shakeera Ahumn who is keen to further develop her ideas in exploring the themes of community and bond through movement and visual art. Currently working as a freelance dance and visual artist in Cardiff, Shakeera's work is inspired from her upbringing in the mulit-cultural melting post of Butetown.
With themselves as the driving force developing their own work and practice, the dance artists will work with Fearghus who will be on hand throughout the process to coach and guide the artists with a view of helping them take their pieces and projects through to the next stage of development.
During the residency, the dance artists will be filmed at key points during their time with us, so that we can capture some of theh key moments within their development. Keep your eyes on our social media channels as we release this photos and videos, so that you can become part of the  secret life of the creative processes that take place behind the scenes before work is ready for performance.