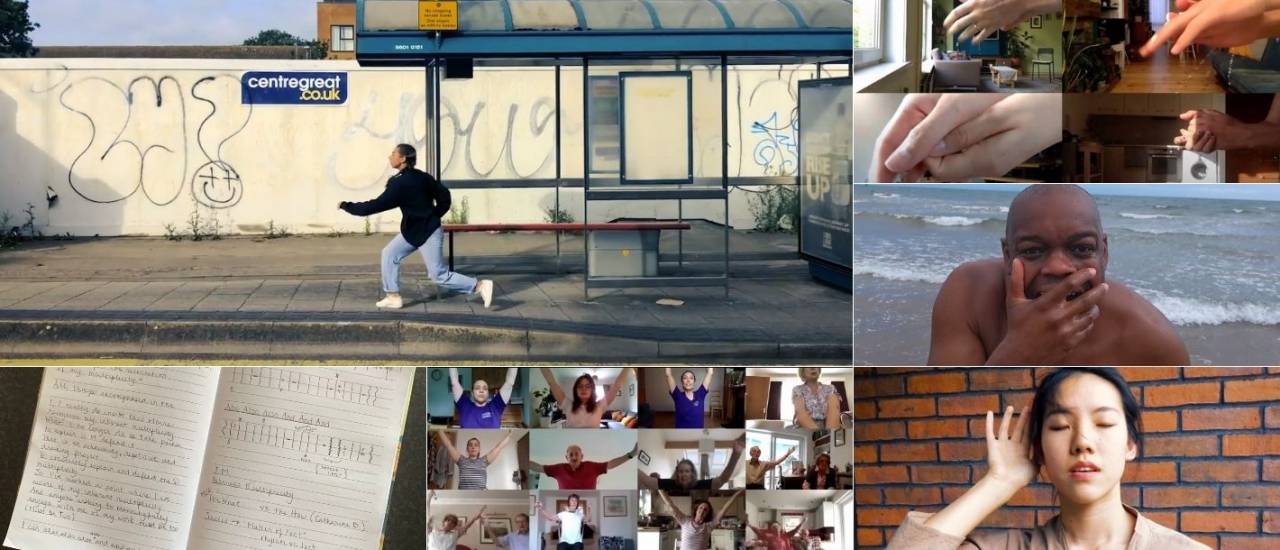 Protect, retain and create
Following our application to the Cultural Recovery Fund, we were pleased to hear last week that we are to receive the full amount we requested from the Arts Council of Wales. Sincere thanks to the staff and Council. This will enable us to continue investing in creating dance work and participation activity at this challenging time. It was also a relief to see many of our sector colleagues being supported large and small, right across Wales. 

Primarily, this funding will enable us to protect and retain our workforce, including eight professional dancers and around 20 freelancers as well as our full and part time staff, so we are ready for when live performance is possible again. It's estimated that this funding could help to protect at least 1,800 jobs across the arts in Wales following the immediate impact of Covid 19.

"It was great news that we'd secured the full amount of the application to ACW for Recovery funding – this protects us should we be unable to tour this financial year, and for other lost income. Whether we tour or not, our audiences and participants are at the forefront of our minds, and if we can't meet them in theatres or dance studios, we are committed to sharing work digitally in the months ahead.'"
Paul Kaynes, Chief Executive NDCWales.

We will offer our digital audiences an improved quality of streaming by investing in specialist equipment and training, building on the inspiring work NDCWales has already been doing for our online audiences since the start of lockdown, including Clapping! made specially for a digital platform, and our partnership with Literature Wales, Plethu/Weave, pairing eight dancers both from the independent dance sector and Company with eight commissioned poets to create short digital film projects.

"I thought you responded really rapidly and positively to providing quality digital content and really appreciated the 'Watch Together' sessions with live Q&As from company members. I never get around to asking questions at Q&As after live performances, but I felt somehow more compelled to connect with people because they were effectively in my home. Anyway, thank you!" 
Audience Member through NDCWales Digital Survey July 2020.

The Company needs the funding to mitigate income losses from touring, participation, space hire and fundraising, and enable the creation of new activity with freelance choreographers, designers, and dancers. There is a particular focus on creating paid employment for freelance artists. who have been particularly affected during this time. We've been listening to what freelance artists have told us what they need so we've offered commissioned projects, research and development opportunities with international choreographers as mentors, professional development and creating a space to debate.
The funding will be deployed in the following ways:
1. Adapting our tour model for venues in Wales to meet demand and the need for reduced capacities.
2. Preparing for additional touring of outdoor works in Spring 2021.
3. Enabling the Learning Lead Dancer to develop new participation work and work with our dance ambassadors in every corner of Wales.
4. Maintaining work for our 6 Wales-based freelance dance ambassadors and priority venue areas,
5. Delivering two programmes of work for the independent dance sector: professional development Laboratori for 8 choreographers making work in Wales, and commissions for independent dancers/choreographers.
6. Delivering participation activity online including Dance for Parkinson's, young people's workshops, Associates (youth company) creation, R&D for work with communities in the Welsh Valleys, providing employment for around 12 artists.
7. Freeing up Development staff to plan ahead. 
8. Capital expenditure to improve the quality of streaming from the Dance House for participation activity
9. Enhanced deep cleaning in the Dance House.
As a successful applicant of the Cultural Recovery Fund, we are delighted to be asked to sign up to a 'Cultural Contract' - designed to encourage organisations to reach more people, improve the diversity of their boards and workforce, provide new opportunities for freelance artists, commit to fair rates of pay, and improve the environmental impact of what they do. This work is of vital importance to us as we continue to diversify who we work with as communities, staff and artists, and who we create our work for. 

If you want to find out more about how you can support National Dance Company Wales during Covid-19 please contact our Head of Development Becky Wright, becky@ndcwales.co.uk