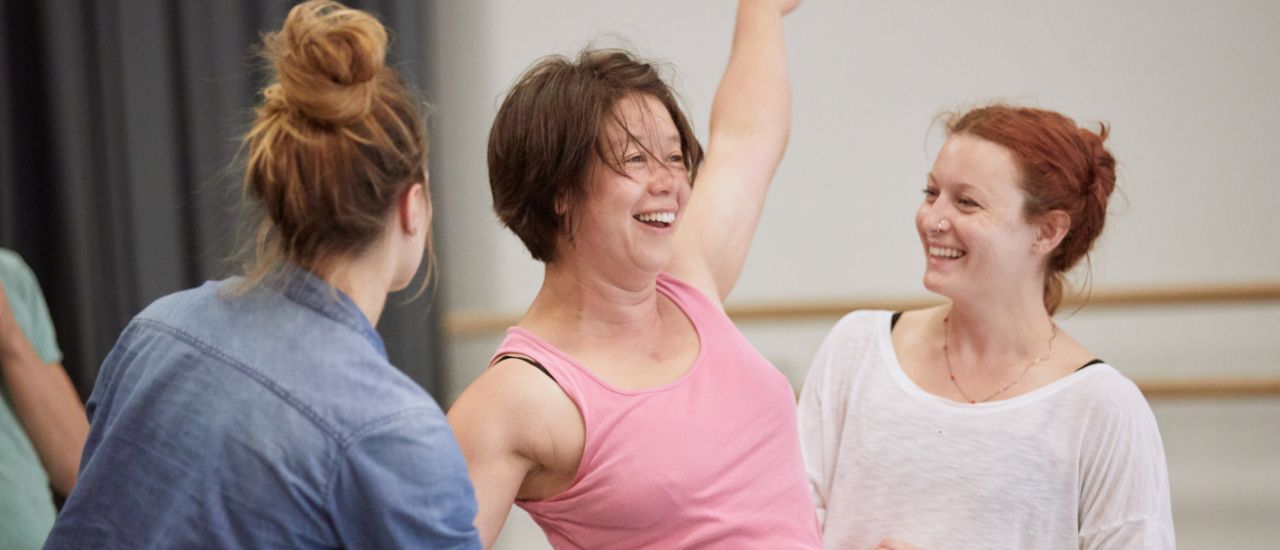 NDCWales launches Laboratori in partnership with Groundwork Pro
This week we launched our first ever Laboratori.
This week we launched our first ever Laboratori at National Dance Company Wales in partnership with Groundwork Pro, the Cardiff-based collective of independent dance artists. Under the mentorship of choreographers Lea Anderson and Eric Minh Cuong Castaing we're inviting choreographers and dancers from the independent sector in Wales and from the company to challenge their existing conceptions of how they make dance and try something new. 
As a national company, it is important to us that we pioneer the development of dance and share in that development with others. We want to try new chorographic ideas and ways of working in the hope that, somewhere within the process, something new and unexpected might arise. It may be just a tiny seed of an idea, but that seed may one day influence dance practice across Wales, and internationally.
For the Laboratori, we've selected seven choreographers to join the process. In week one, Ed Myhill, Jack Philp and Gundija Zandersona will be working with Lea Anderson as mentor and with dancers Tim Volleman, Nikita Goile, Faye Tan, Elena Sgarbi, Paola Drera, Aisha Naamani, Lucy Jones, Anna Kazsuba and Osian Meilir Ioan.  In week two Eddie Ladd, Deborah Light, Tim Volleman and Nikita Goile will be working with Éric Minh Cuong Castaing as mentor with  Camille Giraudeau, Paola Drera, Emma Lewis, Elan Elidyr, Shakeera Ahmun, Hanna Hughes, Elena Sgarbi, Ed Myhill, Folu Odimayo, Faye Tan and Aisha Naamani as dancers. 
"We don't have any pre-conceived ideas about what will come out of the Laboratori" says Fearghus Ó Conchúir, our Artistic Director. "We called it Laboratori, because it is place for trying and testing things. Finding out what doesn't work is as important as knowing what does.  And having the time to see the potential of something that doesn't seem to work right now is really useful – and something we don't always have time for when we're in our usual rhythm of making a piece of choreography.  The excitement is that we don't know what the outcome will be yet."
Fearghus invited Lea Anderson to be a mentor for the Laboratori because of her history of making quirky and visually delightful dance  for different kinds of settings from a cabaret to a gallery. 
And Fearghus asked Éric Minh Cuong Castaing to be a mentor to share some of his experience of working with dance, technologies (like Virtual Reality headsets and drones), and a diversity of performers.
The Laboratori weeks will be a collaborative process between the mentors, the choreographers and the dance artists, where the mentors will offer different stimuli to the choreographers to work through and digest.
The whole process brings together a number of the things that are important for National Dance Company Wales: we want to be a place where new ideas can emerge, ideas that in the long run will excite our audiences in Wales and around the world.  We want to support the continued professional development of the artists in our company and also dance artists in the independent sector in Wales and we know that part of that professional development comes from making creative links between the all of us.  Because the Company is so often on tour, these moments of creative exchange with our dance colleagues in Wales are precious. 
Over the next two weeks the Laboratori will be a hive of activity. We will keep you posted on the results, as soon as we know what they might be.