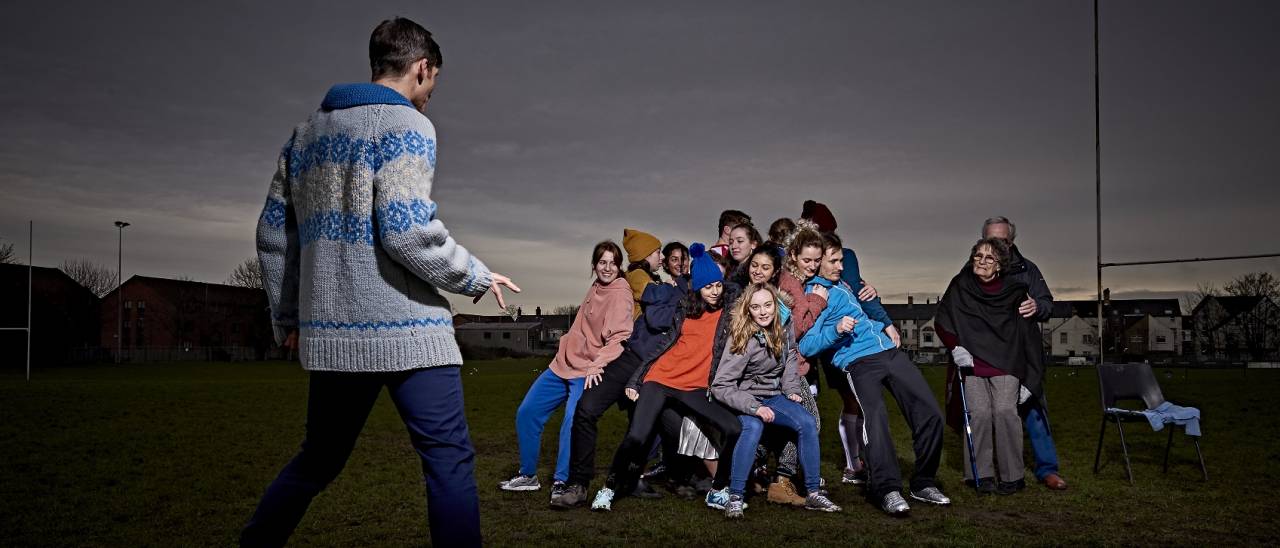 National Dance Company Wales will premiere new dance piece to Welsh audiences at next week's National Eisteddfod ahead of special performances in Japan for the 2019 Rugby World Cup
National Dance Company Wales will premiere new dance piece to Welsh audiences at next week's National Eisteddfod ahead of special performances in Japan for the 2019 Rugby World Cup
National Dance Company Wales will premiere its new dance piece, Rygbi Annwyl i mi / Dear to me, at this year's National Eisteddfod in North Wales

National Dance Company Wales will then perform at key events within the Rugby World Cup 2019 schedule in Japan

Rygbi – Annwyl i mi / Dear to me

is inspired by Wales' passion for its national sport - rugby
National Dance Company Wales (NDCWales) today announces that the company will premiere its new dance piece, Rygbi – Annwyl i mi / Dear to me, to audiences in Wales at this year's National Eisteddfod in Llanrwst, North Wales, before the company journeys to Japan to perform in the 2019 Rugby World Cup to a global audience.
NDCWales will perform a dance piece titled Rygbi – Annwyl i mi / Dear to me on the 'Maes' to thousands of Eisteddfod-goers as they descend on the small market town of Llanrwst next month. The piece will be a short outdoor dance performance that celebrates rugby in Wales and the hopes, glory and passion of rallying together on and off the pitch.
The Rygbi Project has been created with and inspired by rugby fans and players across Wales who have also had an opportunity to input to the piece. This will be NDCWales' debut performance at a national Eisteddfod – it will premiere the piece on the Maes on Thursday 8th and Friday 9th August 2019.
The dance piece has been created and choreographed by NDCWales' Artistic Director, Fearghus Ó Conchúir who said "Rygbi – Annwyl i mi / Dear to me connects dance and Wales' passion for the physicality, poetry and emotion of rugby.  It's about the communities that rugby makes across the country and the international arena where Welsh bodies perform with power, passion and skill."
He continues "Our new project, Rygbi, brings National Dance Company Wales' expertise in dance to the nation's expertise in rugby and celebrates teams who work together to carry the hopes and dreams of communities through committed performances on stage and on the pitch. Though I'm Irish, I'm hoping the Welsh can recognise how honoured this Celtic cousin feels at being able to show a dance perspective on the national game."
Rugby and dance are connected through their expertise in movement and through dedicated performances of power and emotion. The sport fuses speed and skills, tears with joy and camaraderie with pride. It has earned Wales a reputation around the world by many people who reminisce about the 'Golden Era' of the Welsh rugby team of the mid-60's and early 70's with heroes then being the likes of Barry John, Gareth Edwards and JPR Williams. Decades on, we are now able to celebrate the success of our Welsh players once again as Warren Gatland's men lifted the Grand Slam trophy earlier this year.
Rugby brings communities together and creates legends
As international rugby fans gather together to celebrate the world's greatest rugby tournament, NDCWales will travel to Japan in September to start its series of performances for the 2019 Rugby World Cup. The company's first performance will take place at the Welsh Government's Wales House, in Tokyo ahead of the Wales v Georgia clash.
The Rygbi Project consists of a range of live performances indoor and out, with workshops, digital work, chats and hang outs, all of which will be developed with Welsh communities over the next few years. For more information, visit www.ndcwales.co.uk
The creation of Rygbi – Annwyl i mi / Dear to me has been made possible with the generous support of Colwinston Charitable Trust.
National Dance Company Wales would like to thank the Welsh Government, British Council and Wales Arts International for their kind support.