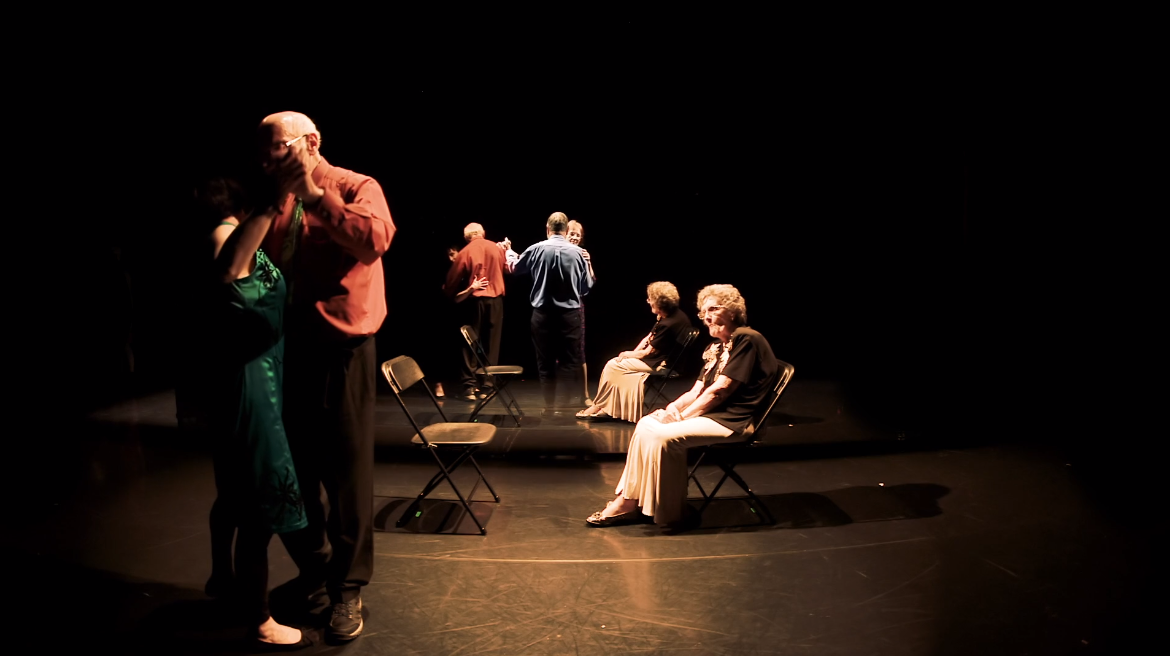 National Dance Company Wales launch new dance film Reflections.
Reflections is a touching and uplifting film danced by participants of the NDCWales' Dance for Parkinson's programme and is now available to watch, along with a mini-documentary online.
The film is the best example of National Dance Company Wales' ongoing commitment to making dance for every body, and every ability; as it has the power to improve both mental and physical wellbeing.
Reflections is created this year in response to Afterimage, a magical dance piece by Fernando Melo which was toured as part of NDCWales' 2019 Awakening tour. NDCWales Artistic Director Fearghus Ó Conchúir prepared the film's choreography throughout the Dance for Parkinson's classes this spring with class leaders Yvette C Halfhide and Helen Woods. Filmmaker Jonathan Dunn shot and edited the piece.
When talking about the film Fearghus said:
"all kinds of people can move, they move in different ways, they bring different knowledge, different kinds of bodies and experiences, but for me, creativity is a way to help that be visible, to show how dance can be different…It's been important to build a choreography, and a way of working that could look after and respect and cherish the individuality of all the different people who are participating and that means on their good days, and on the days that are not so easy for them."
Afterimage was a dance piece that used huge mirrors so that subjects could appear and disappear live on stage, the set was inspired by an illusion known as Pepper's Ghost. The dance featured choreography drawn using audio-recorded conversation as a rhythm for movement.
For the Reflections film, Fearghus used these ideas with the dancers and created a choreography and a film which speaks of memory, reminiscence, loss, reunion, friendship and love. 
Participant Wendy said "Not only do you see people with Parkinson's but we all laugh, and it's wonderful to know that you can all laugh even though you've got this terrible illness, you want to go on, life hasn't finished."
You can watch the film and accompanying mini-documentary in their entirety online now via National Dance Company Wales' website and social media channels.
END
In Partnership with English National Ballet, National Dance Company Wales' Dance for Parkinson's classes are a fun and informal way for to discover the themes of our dance pieces.
Dance for Parkinson's has been proven to support people with Parkinson's to develop confidence and strength, whilst temporarily relieving some participants of symptoms in everyday life. Classes are expressive, creative and promote feelings of freedom from the physical and social constraints of having Parkinson's.
English National Ballet's Dance for Parkinson's programme has been running since 2008 and is part of Dance for PD membership, to support Dance for Parkinson's Partnership and People Dancing and to have an affiliation with Parkinson's UK. ENB's national Dance for Parkinson's programme enjoys close links with Parkinson's UK and the European Parkinson's Disease Association EPDA.
________________________________________
National Dance Company Wales makes innovative work with and for all kinds of people in all kinds of places, helping to model how we could be individually and collectively.   The company presents its work in different formats and contexts across Wales and around the world, commissioning primarily choreographers who haven't yet been commissioned in the UK.
Founded in 1983 as Diversions, the company took up residency in 2004 at the Dance House, Wales Millennium Centre. The Dance House is regarded as one of the best dance production and rehearsal facilities in Europe and is the home and dance hub for professional development and nurturing dance talent in Wales. Fearghus Ó'Conchúir joined the company as Artistic Director from October 2018.
National Dance Company Wales is registered as a Limited Company in England & Wales No. 1672419 and registered as a Charity in England & Wales No. 326227.