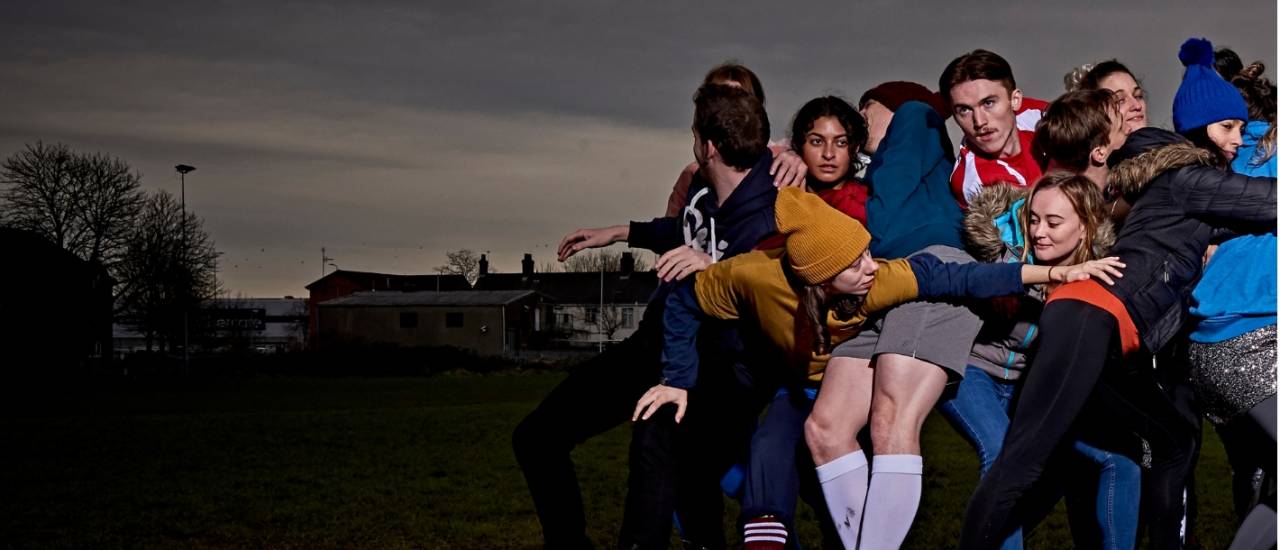 National Dance Company Wales announces 12 month programme under new Artistic Director.
National Dance Company Wales' new Artistic Director, Fearghus Ó Conchúir today announced the company's programme for the next 12 months, which includes his new Rygbi Project, a revival of Nigel Charnock's Lunatic, as well as commissions for Wales-based and international artists.
National Dance Company Wales makes innovative work with and for all kinds of people in all kinds of places. The company presents its work in different formats and contexts across Wales and around the world, commissioning primarily choreographers who haven't yet been commissioned in the UK and finding continued contemporary relevance in existing repertoire.
Fearghus Ó Conchúir was appointed as the new Artistic Director in April 2018, and took up the post in October. Following the 2019 Spring tour, Awakening, the new programme of work will continue NDCWales' ambition to share with diverse audiences and participants the value of dance.
Artistic Director, Fearghus Ó Conchúir said, "In the past few years, National Dance Company Wales has made a huge commitment to diversifying its programme.  It's toured across Wales, the UK and internationally to small and large-scale venues; it's presented work in outdoor events and festivals, and online. As I arrived at the company last Autumn, it was collaborating with Music Theatre Wales on the dance-opera Passion, presented in large venues across Wales and England, and at the same time interacting with many first-time dance audiences through its Roots programme in smaller venues across Wales.  It's been very heartening for me to find the company capable of bringing quality and innovative dance to this range of audiences and places.  From 2015/2016, the number of people who saw or participated in the company's work increased from 6,000 to 24,000.  And I want to help National Dance Company Wales to continue developing that innovation, quality and connection to people and places, confident in the value of dance as an art-form and curious about what we can learn when we work creatively with a diversity of talented people."
The next 12 months will see Fearghus start his first creative project with the company: Rygbi - Annwyl i mi/Dear to me which will have its premiere as an outdoor performance, at the National Eisteddfod of Wales in August.  Fearghus will develop a small-scale version as part of the Roots tour our across Wales in November, and a larger-scale rugby piece for the Spring 2020 tour across Wales and the UK, with opportunities for people to join in through conversations and shared dancing over the longer life of the project. The work will be developed this Spring in residencies and research periods across Wales.
Rygbi- Annwyl i mi/Dear to me connects the company's expertise in dance to a nation's passion for rugby. It explores how Welsh bodies are made, how in sport, as in dance, different people with different strengths work together to create effective teams. Those teams carry the hopes and dreams of wider communities through their committed performances. Those teams are also carried by the communities that support them. The Rugby Project uses dance to celebrate the glorious effort of rallying together.  The work will be researched with rugby communities across Wales and features a new composition and sound design by BAFTA Cymru award-winner, Tic Ashfield.
After its huge success in 2018, NDCWales' Roots tour will be back in November 2019 with four short, sharp dance pieces, rewarding for existing dance lovers and, with its relaxed and accessible format, ideal for those who are new to contemporary dance.  As well as presenting work from The Rugby Project, the Roots programme will be showcasing two new pieces of work that were created by the company's dancers. Nikita Goile's Écrit, draws inspiration from a letter written by iconic artist, Frida Kahlo to her partner, Diego Riviera. The piece is about relationships and explores the delicate balance between control and surrender..
Ed Myhill's Why Are People Clapping has been inspired by composer Steve Reich's 'Clapping Music', and playfully uses rhythm and percussion as a driving force. The music is performed live by the dancers and uses the simple sound of a clap to create a colourful and energetic soundscape for the dance. The fourth piece in the programme will be a new piece by Anthony Matsena, who was born in Zimbabwe and grew up in Swansea, he started out going to local hip-hop classes before joining National Youth Dance Wales and going to train professionally at London Contemporary Dance School.  He is currently a Young Associate Artist with Sadler's Wells.
Fearghus said, "It will be the first time for these choreographers to tour work across Wales.  An important part of what the company can do is to support talent and to introduce new voices and perspectives to audiences.  It's also a place where artists can learn from meeting new audiences in different settings."
"Recognising that we live in a time of political, economic and social uncertainty, the Spring Tour in 2020 brings together work that examines different versions of community. We will be reviving Lunatic, created for NDCWales by one of Britain's most influential choreographers, Nigel Charnock. Raised in North Wales, Nigel studied at Royal Welsh College of Music and Drama, co-founding the ground-breaking DV8 he went onto tour internationally a unique series of solo performances and company works.  Lunatic was created ten years ago, but its questions of national, gender and class identity have a renewed resonance in 2020 that makes it important to bring again to audiences."
Also in 2020, NDCWales will be presenting a new work by choreographer Alexandra Waierstall. Born in England, raised in Cyprus and now living in Germany, Waierstall creates elegant and shimmering work that moves groups of bodies with a strong sense of musicality and a poetic physicality.
The third piece for the 2020 tour will be an adapted version of Rygbi- Annwyl i mi / Dear to me by Fearghus Ó Conchúir, with music by Tic Ashfield.
Tour details for Roots and Spring 2020 will be announced in the forthcoming months.
"As well as presenting finished works for performance, it is important that National Dance Company Wales supports new possibilities that foster innovation in our art form.  In June the Company will be hosting a new Laboratori programme that brings together artists from the company and from the independent dance sector in Wales to test new choreographic ideas and ways of working.  Hosted by NDCWales and supported by Groundwork Pro, the Cardiff-based collective of dance artists, the Laboratori will offer participants mentorship and stimulus to evolve and extend their usual ways of working. The mentors for the Laboratori will be Lea Anderson (founder of iconic dance groups, The Cholmondeleys and of The Featherstonehaughs) and Éric Minh Cuong Castaing (Artistic Director of Shonen, a French company that works with dance, new technology and a diversity of performers)."
In addition to the structured Laboratori programme, the company will also offer residencies for Wales-based artists at the Dance House in June. Building on the success of her work with the company,  Resident Choreographer Caroline Finn will be developing new ideas with us and her choreography will be part of our international touring programme.  And the company will also continue to support our Associate Artist Matteo Marfolglia.
The Company continues to bring dance from Wales to new audiences abroad, building important cultural connections at a time of political uncertainty. Over the last 18 months the Company has toured to Hong Kong, Germany, Switzerland and Austria with over 6000 people seeing them live on stage. In 2019, NDCWales will return to Germany, Poland and Hong Kong, as well as touring to new venues in Spain.
Fearghus said, "These plans build on what the Company has done in the past few years to bring its work to new audiences at home and abroad.  I hope to further the company's ambitions to be confident champions of the value of dance, curious about what it doesn't yet know, and connected to the expertise of all kinds of artists, of audiences, of participants, of people from other disciplines and sectors to help us innovate."