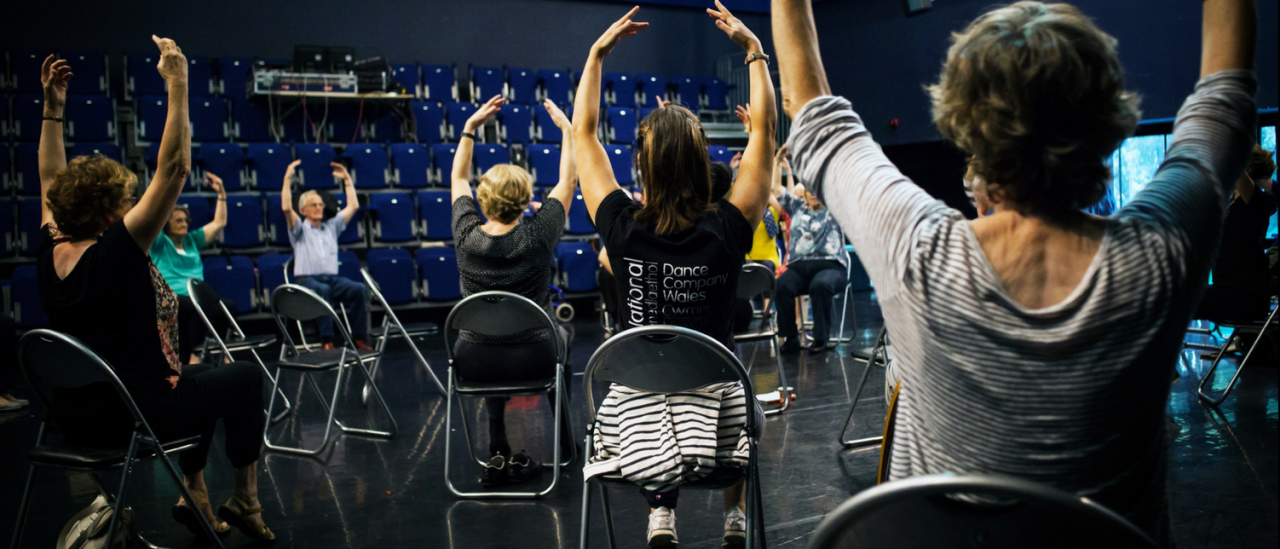 National Dance Company Wales and English National Ballet are launching new Dance for Parkinson's classes at Blackwood Miners Institute this November.
Following a successful 2 year programme in Cardiff, English National Ballet and National Dance Company Wales are developing their ground-breaking Dance for Parkinson's programme with Caerphilly Arts Development.
Dance for Parkinson's will be led by English National Ballet's Associate Artists Yvette Wilson and Helen Woods and the classes will enable more people to access this important and thriving programme. 
Dance for Parkinson's brings a unique opportunity for people to engage with high quality dance classes, exploring themes, choreography and the music in dance based on English National Ballet and National Dance Company Wales' artistic styles.

Cardiff participant Roger said, "I have seen people get up out of their wheelchairs and walk the length of the room, not always, but more than once.  This is the only form of physio my wife won't miss, all the others she says – let's not go, but she won't miss this for anything".
Carers, friends and family are also invited to join in, which have added benefits of improved mental and physical health and wellbeing, the chance for social interaction with like-minded people and most importantly a fun and creative class suitable for all.
 
Classes cost £3.50 and refreshments are available at the end of the class. The first session on 1 November will be a free taster session at Blackwood Miners Institute, 10am – 12noon for all participants, carers, families, friends and anyone interested in volunteering with the programme. The Dance for Parkinson's sessions will continue until 13th December.
For further information or to book a space on the programme contact sarah@ndcwales.co.uk
For further information about Dance for Parkinson's at the Dance House, Cardiff Bay please contact Sarah Chew on 029 2063 5600 or email sarah@ndcwales.co.uk
Dance for Parkinson's Blackwood is supported by Big Lottery Fund Wales and Hodge Foundation
About English National Ballet's Dance for Parkinson's
English National Ballet's Dance for Parkinson's is a national programme that started in London in 2008 and has rolled out nationally over the last nine years. ENB is considered to be the UK leading dance organisation for delivering high quality dance for people with Parkinson's and is committed to raising the public profile of Parkinson's, to give access to, and advocate for, the benefits of dance and cultural activities for people with Parkinson's. Our national hub partners are National Dance Company Wales in Cardiff, DanceEast in Ipswich, MDI in Liverpool and Oxford City Council.
We are proud to be part of the Dance for PD membership, to support Dance for Parkinson's Partnership and People Dancing and to have an affiliation with Parkinson's UK.
English National Ballet's Dance for Parkinson's is supported by Ammco Trust, The Big Give, The D'Oyly Carte Charitable Trust, The Kirby Laing Foundation, Masonic Charitable Foundation and The Vandervell Foundation
www.ballet.org.uk
National Dance Company Wales | ndcwales.co.uk | @ndcwales
National Dance Company Wales is an award-winning company presenting work by some of the most celebrated international choreographers alongside creations by exciting new Wales-based talent.
NDCWales is committed to working with young people, many of whom will be experiencing contemporary dance for the first time, to develop dance appreciation by watching, participating in and talking about dance.
NDCWales presents opportunities for the public to experience contemporary dance in different ways. Through participation in various engagement activities on tour, such as workshops or interactive performances, audience members experience an introduction to the art form in a relaxed and open environment.
Founded in 1983 as Diversions, the company took up residency in 2004 at the Dance House, Wales Millennium Centre. The Dance House is regarded as one of the best dance production and rehearsal facilities in Europe and is the home and dance hub for professional development and nurturing dance talent in Wales.
National Dance Company Wales welcomed Caroline Finn as its new Artistic Director in September 2015 and Paul Kaynes as Chief Executive in February 2015 who, together, are leading the company to create work for new audiences and settings.
National Dance Company Wales is registered as a Limited Company in England & Wales No. 1672419 and registered as a Charity in England & Wales No. 326227
National Dance Company Wales receives support from Arts Council of Wales and Welsh Government.
About English National Ballet
English National Ballet has a long and distinguished history. Founded in 1950 as London Festival Ballet by the great English Dancers Alicia Markova and Anton Dolin, it has played a major role in the growth and history of ballet in the UK. Today, English National Ballet is renowned for taking world-class ballet to the widest possible audience through its national and international tour programme, offsite performances at festivals including Glastonbury and Latitude, its distinguished orchestra English National Ballet Philharmonic, and being a UK leader in creative learning and engagement practice and delivery, building innovative partnerships to deliver flagship programmes such as English National Ballet's Dance for Parkinson's. Under the artistic directorship of Tamara Rojo, English National Ballet has gained new acclaim as it introduces innovative new works to the Company's repertoire while continuing to honour and reinvigorate traditional ballet.