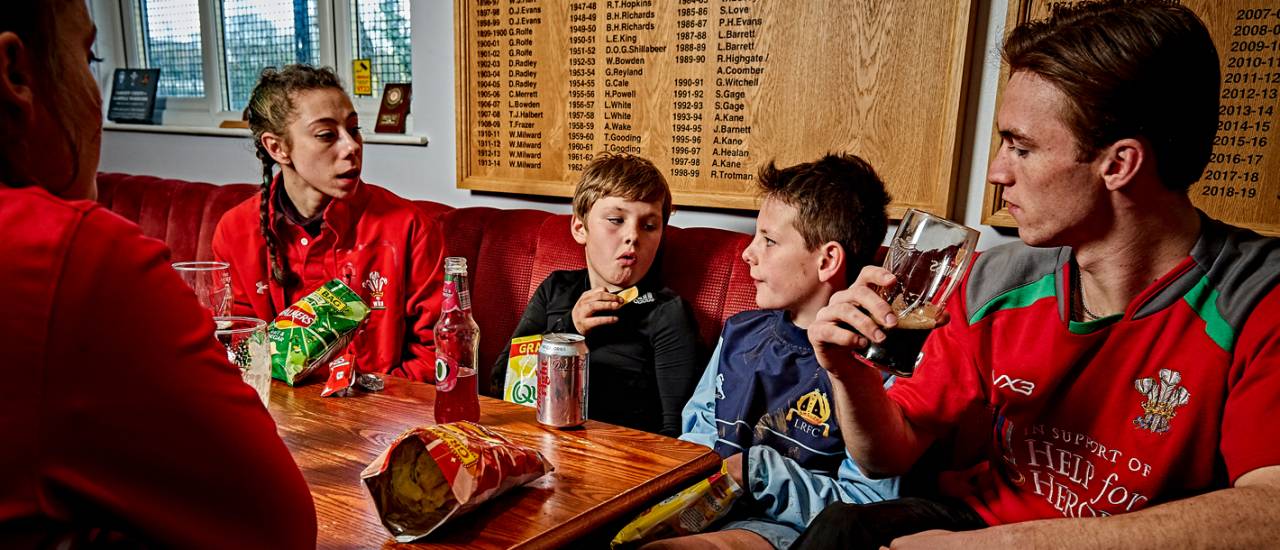 Have a dance down the Rugby Club NDCWales brings a virtual rugby club together online
While Rugby Clubs and theatres around Wales count down until they can reopen, National Dance Company Wales will be bringing the rugby community together in a virtual online Rugby Club on 16 July.
Join NDCWales and a panel of WRU Rugby leaders and fans from across Wales to watch the national contemporary dance company of Wales perform their own dance rugby piece, Rygbi: Annwyl i Mi/ Dear to Me, followed by post-match discussion and debate while in our virtual club house.
The Virtual Rugby Club on 16 July will include the pre-recorded broadcast of NDCWales' physical dance piece, Annywl I Mi/Dear To Me. Created by NDCWales' former Artistic Director,  Fearghus Ó Conchúir , Rygbi: Annywl i Mi/ Dear To Me is about the passion of rugby, the people and the community who support the game on and off the pitch.
Rygbi: Annywl i Mi/ Dear To Me premiered at the National Eisteddfod 2019 in Llanwrst before it toured to Japan to coincide with the Rugby World Cup 2019. A shorter version of the dance piece then toured across Wales as part of the Roots 2019 tour and as part of the KiN Tour earlier this Spring before lockdown in the UK.
Dance fans savoured in the opportunity to watch the online premiere back in April, and now rugby audiences have the chance to watch the pre-recorded piece as well as hear in conversation from some of Wales' leading community rugby coaches, players and its fans, in the Virtual Rugby Club. Creator of Rygbi; Annwyl I Mi/ Dear To Me,  Fearghus Ó Conchúir  will be in conversation with WRU's General Manager Women and Girls Rugby Charlotte Wathan and WRU's Mixed Ability Rugby Lead Coach Darren Carew; with Rugby fanatic, author and Western Mail Newspaper Columnist Carolyn Hitt will be talking about the sport from a fans perspective.
Fearghus Ó Conchúir, said, "When I created Rygbi with NDCWales, we spent a lot of time learning, listening and observing all kinds of rugby across Wales, engaging with the community on and off the pitch. We joined the Ospreys training and had some of their players join us in dancing,  we spoke to community teams and their supporters in North Wales, we had former Wales international, Nigel Walker, come and talk to us about his experience and we watched international matches with fans in the Autumn season. Rugby is a game that connects different communities across the country and in an international arena where Welsh bodies perform with power, passion and skill.  As a national dance company, NDCWales has that experience too.  What this Rygbi Project shows is how dance and rugby can build and celebrate teams that work together to carry the hopes and dreams of communities through committed performances on stage and on the pitch.  And that those brilliant performances depend on and are sustained by the support of the communities they help to make."
If you miss the broadcast times this week and previously, NDCWales will be hosting all the video content on its website and YouTube channel to watch again at any time.
The Virtual Rugby Club event will be broadcast on Thursday 16 July 8pm on NDCWales Facebook Page.
The broadcast of Rygbi: Annwyl i Mi/Dear To Me is part of National Dance Company Wales' online digital programme, KiN: Connected, which was launched in April with a desire to create a community for dance online with audiences, participants and the sector.
Find out more on ndcwales/digital-hub.