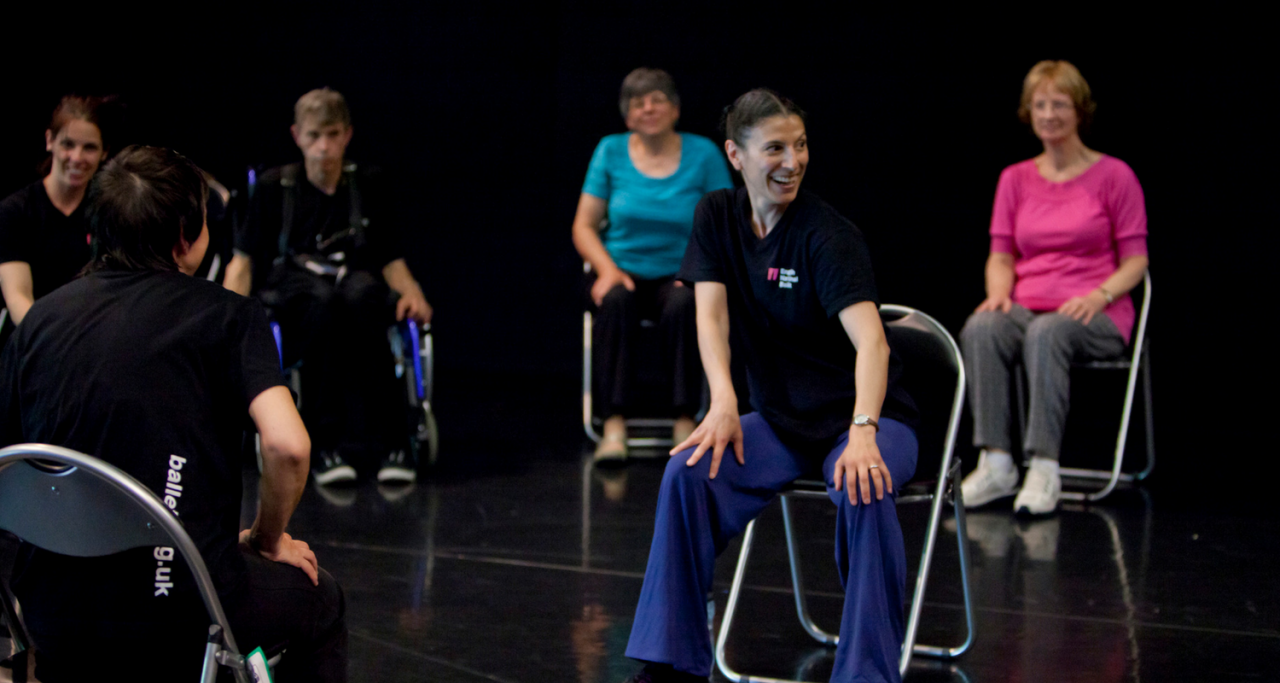 Free Dance for Parkinson's Taster Sessions with NDCWales and English National Ballet as part of Get Creative 2018
Free taster session at Blackwood Miners Institute 21 March (10am-11.15am)
Free taster session at Dance House Cardiff 22 March (2pm-3.15pm)
Taster Sessions with English National Ballet artists and dancers
National Dance Company Wales in partnership with English National Ballet's Dance for Parkinson's programme will hold a series of free taster sessions as part of the UK Get Creative Festival this March.
English National Ballet's Dance for Parkinson's programme is held weekly at the Dance House and also at Blackwood Miners Institute.  Dance for Parkinson's brings a unique opportunity for people with Parkinson's in Cardiff, Newport and the surrounding areas to engage with high quality dance classes in the professional environment of the dance studio.
Based on English National Ballet's contemporary and classical repertoire, the classes provide a fun and informal way for participants to discover the themes, choreography and music of the ballets. After the session refreshments are provided for those that would like to stay.
This programme is proven to support people with Parkinson's to develop confidence and strength, whilst temporarily relieving some participants of symptoms in everyday life. Classes are expressive, creative and promote feelings of freedom from the physical and social constraints of having Parkinson's.
As part of the Get Creative Festival, there will be a free Dance for Parkinson's taster session open to all. English National Ballet dancer Jennie Harrington will be joining the session in Cardiff on 22 March, alongside other members of English National Ballet's London team.
English National Ballet's Dance for Parkinson's programme has been running since 2008, and National Dance Company Wales have been partners on the programme since 2015. In 2017 the Blackwood hub was launched following the success of the first hub in Cardiff.
Fleur Derbyshire-Fox, Director of Engagement at English National Ballet said: "English National Ballet's Dance for Parkinson's programme aims to provide classes that are uplifting and joyful, improving beneficiaries physically through better posture and improved movement and balance, as well as increasing self-esteem, confidence, mood and general wellbeing. We are delighted to be part of the Get Creative Festival with our partners National Dance Company Wales and showcase the work to a wider audience." 
Get Creative Festival celebrates creative participation of all kinds and the many health and wellbeing benefits that taking part can bring to both individuals and communities. As part of the festival, creative groups and organisations across the UK are invited to showcase their creativity and welcome new people to join them from 17 – 25 March 2018. It is a great way for people to find out how to get creative on their doorstep and try something different with hundreds of hands-on events on offer.
Spaces are limited at each session. For further information about Dance for Parkinson's and to book your space on the 21 or 22 March please contact Sarah Chew, National Dance Company Wales on 029 20635600 or email sarah@ndcwales.co.uk.