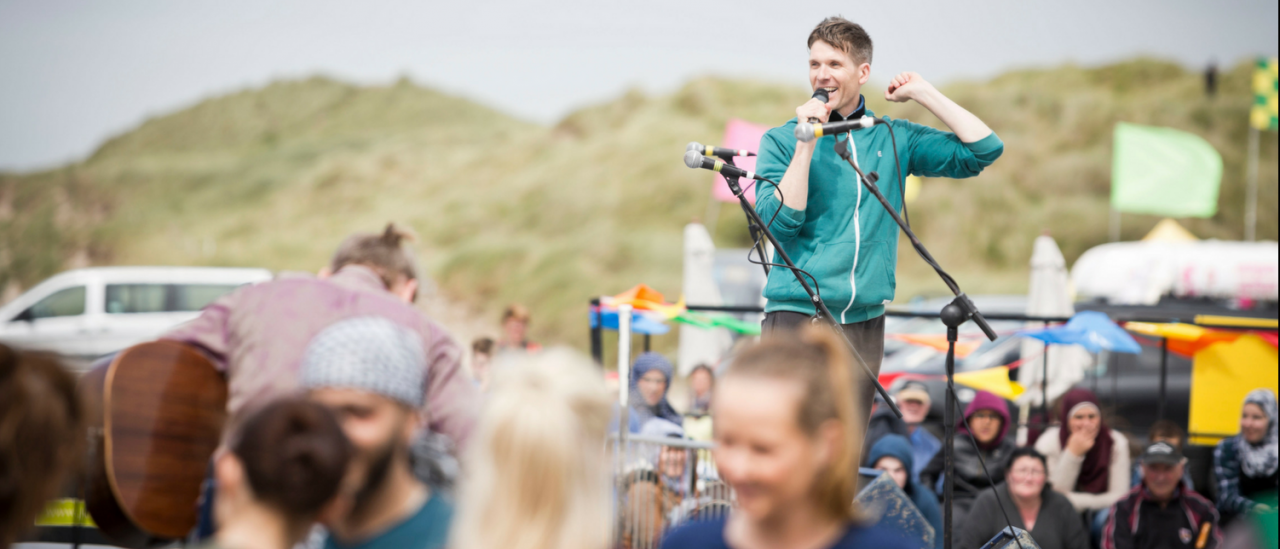 Fearghus Ó Conchúir named as National Dance Company Wales' new Artistic Director
National Dance Company Wales (NDCWales) have today announced the appointment of their new Artistic Director, Fearghus Ó Conchúir.
Fearghus will take up his new position in the autumn (2018) joining Chief Executive, Paul Kaynes at the helm of Wales' leading dance organisation to continue developing dance in all kinds of settings with all kinds of people, across all the Company's work, locally, nationally and internationally.
Commenting on his new role, Fearghus Ó Conchúir said "It's an honour to take on this role as Artistic Director of NDCWales. What excites me about the company is how we use dance to express an inclusive and robust vision of what Wales is and can be in the future. I'm joining a company that's up for bringing its work from the stage and the studio to all kinds of other platforms – from nightclubs to social clubs, from schools to care homes, online and up close. I want to support the company to learn from all kinds of people and places across Wales and to make connections between them and the international dance network in which NDCWales already represents Welsh talent and potential."
With over 20 years experience as a choreographer, performer, teacher and mentor, Fearghus has most recently worked as Artistic Director of The Casement Project, one of Arts Council of Ireland's largest projects for the centenary commemorations of the 1916 Easter Rising. It engaged 90,000 people in a varied programme of dance events and was also one of the 14-18 NOW co-commissions for the centenary of the First World War.
Born and raised in Ireland, Fearghus has presented his choreography in the UK, across Europe, the USA and China, collaborating with award-winning performers, directors, composers and designers. He has also worked as a dance teacher for companies such as Adventures in Motion Pictures, Arc Dance, Company and Ballet Preljocaj, as well as being a lecturer on professional training courses at LCDS, Middlesex University and London Studio Centre. He has gained a wealth of artistic experience and an international network of creative collaborators and partners in and beyond dance. He holds a strong focus on diversity and has developed dance projects within the LGBT and refugee communities, with dance enthusiasts over 50, and with Irish integrated dance company, Croí Glan.
In addition to being a Fellow of the Clore Leadership Programme, Fearghus has gained a wealth of experience as a facilitator, coach, and contributor to the Clore Leadership Programme, having been part of the delivery of its Fellowship, Intensive and Emerging Leaders' Courses for over ten years.. He has also worked with Clore to deliver the Advanced Cultural Leadership Programme in Hong Kong.
National Dance Company Wales Chair Jane McCloskey said "My fellow board members and I are delighted that Fearghus is joining the company at such an important time in its evolution. He brings a wonderful track record as an innovator and leader in contemporary dance both in the UK and internationally and will help us to fully embody our place as the National Dance Company for Wales."
Paul Kaynes, Chief Executive of NDCWales added "The whole Company is enormously excited by Fearghus' appointment. His track record of international leadership, his evident interest in the culture of Wales and how we help embody and add to it, and his commitment to diversifying the people of the arts make this an appointment which will help us achieve our ambitious plans for Wales and for dance."
Nick Capaldi, Chief Executive of Arts Council of Wales said, "We are delighted that NDCWales has been able to attract an Artistic Director of the calibre of Fearghus Ó Conchúir. This is an exciting appointment and brings to the company someone whose vision and energy will drive forward the next chapter in NDCWales' creative endeavours. We look forward to welcoming him to Wales."
Fearghus will take up the role of Artistic Director previously held by Caroline Finn, who remains with the Company and was appointed Resident Choreographer in December last year.