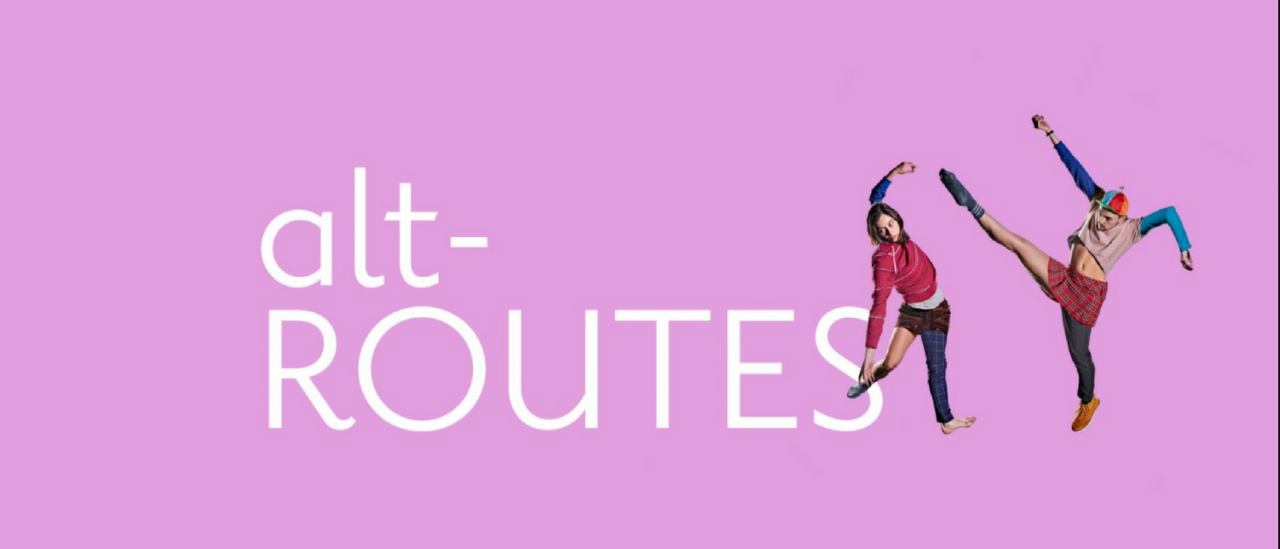 Alternative Routes; Dance & Design from Cardiff's emerging artists
NDCWales dancers and design students from the Royal Welsh College of Music & Drama unite to make four fresh dance works which will be performed at the Alternative Routes performances on 7- 9 June at the Dance House, Wales Millennium Centre.
For over 10 years Alternative Routes has allowed dancers develop their choreographic style and work alongside design students who create accompanying costumes, lighting, soundscapes and set. Alternative Routes is an evening of dance and design made by artists who have their finger on the pulse of Cardiff's creative and collaborative culture. 

Over the course of 4 weeks the dancers and designers will create together 4 pieces of dance. This year dancers Ed Myhill, Kat Collings, Nikita Goile and Tim Volleman create their individual ideas for the stage. As well as working with designers from the Royal Welsh College of Music and Drama, this year 3 of the choreographers will be working with composers from college too.
The four dance pieces for Alt Routes 2018 are all different and unique. Ed Myhill's Why Are People Clapping has been inspired by composer Steve Reich's 'clapping music', and will use rhythm and percussion as a driving force. The music will be performed live by the dancers, and explore simple sound of a clap and how it can be used to create a colourful and energetic soundscape and environment for dance.
Nikita Goile's Ecrit, draws inspiration from a letter written by Frida Kahlo to Diego Riviera. She will be exploring the points between invitation and discouragement; how much can we influence one another and how far we can push the boundaries between manipulation and loss of control.
Tim Volleman's Panopticon is about online privacy. How much of ourselves do we give away on a daily base without second thoughts? And what are the consequences? Tim will explore this subject together with his dancers, translating the ideas into a physical duet.
Kat Collings will create dance to express the honest pleasure of movement, music and rhythm; and explore the many ways in which a person can express themselves without saying anything.
Alternative Routes gives unique access to experience the NEW and the NOW, and reject the NORMAL in an intimate setting.
Alt Routes has helped launch the careers of choreographers, designers and makers for over 10 years, and many of the artists and their works are now praised across the world, including Matteo who's dance piece, Omertá went on to win "Coreografia D'Autore" for the Prix De Sicilie in 2017 and was part of NDCWales' Roots tour in 2017.
Mathieu Geffre created What Songs May Do which went on to feature at the 30th Competition for Choreographers in Hanover and received the 3rd Prize Choreography at the 9th Copenhagen International Choreography Competition; and Lee Johnston's They Seek to Find the Happiness They Seem has been touring as part of the NDCWales' rep for the last two years.
Alternative Routes will be at the Dance House, Cardiff from 7-9 June. In addition to the performance there will be Open Rehearsals on Wednesday 16, 23 and 30 May at 6pm for audiences to have an insight in the creation process. This is a free event.
Tickets are now on sales from Wales Millennium Centre Ticket Office. Call 029 2063 6464 or visit ndcwales.co.uk